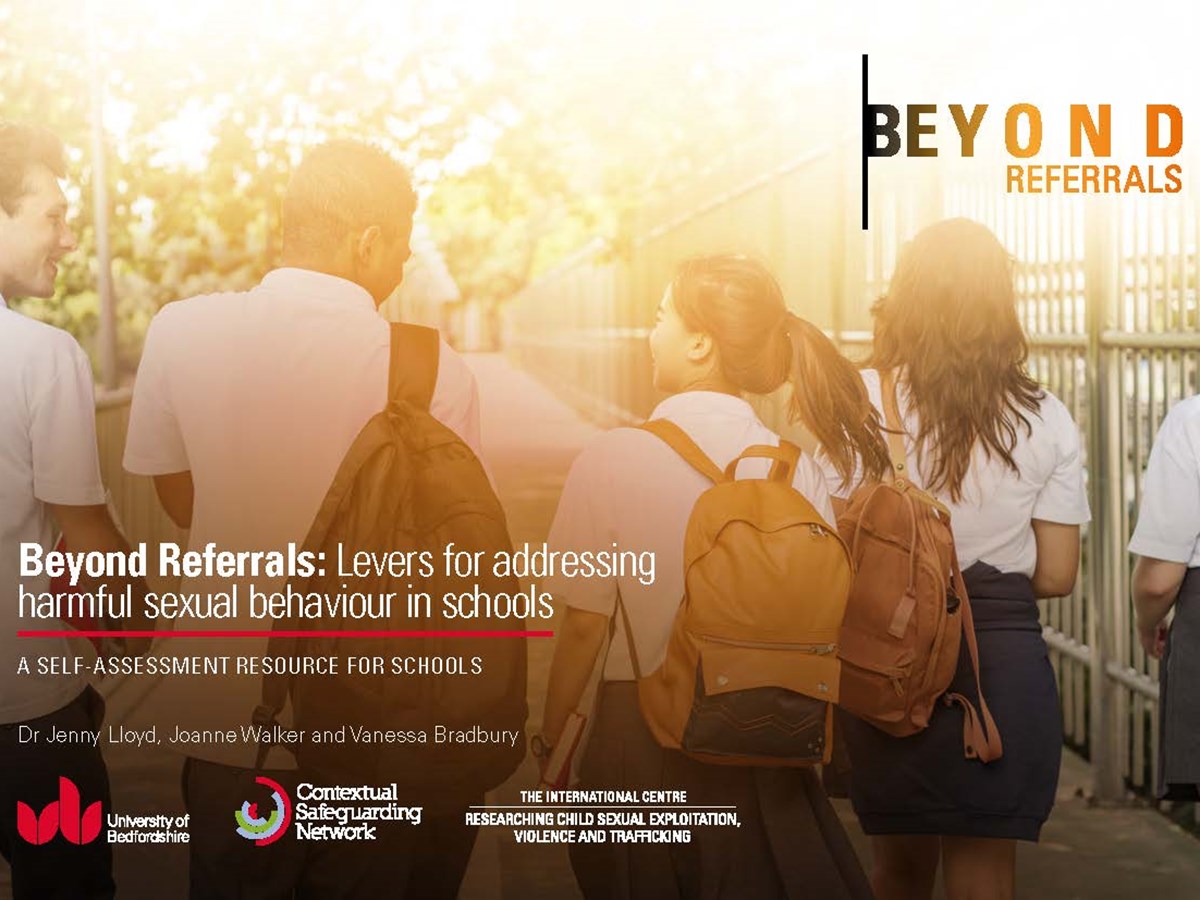 Young people report that schools are locations where students can encounter sexual harm. This can involve a range of harmful sexual behaviours (HSB) from name-calling and sexual bullying to sexual assault. Schools are also places that can provide safety to young people and promote positive ideas about gender and relationships.
Research indicates that in order to create safer school environments, schools, multi-agency partnerships and inspectorates need to work together to offer solutions to HSB that move beyond referrals to social care of the individuals involved. Instead professionals need to provide a holistic response to HSB in schools which crosses both prevention and intervention. Beyond Referrals  1 and 2 focused on HSB in schools. Key thematic findings from the Beyond Referrals 2 project, along with the recommendations that followed, can be found in our briefing: Harmful sexual behaviour in school: a briefing on the findings, implications and resources for schools and multi-agency partners.
The Contextual Safeguarding team, supported by a Research Advisory Group, have created a range of resources for schools, multi-agency partnerships and inspectorates for tackling harmful sexual behaviour in schools. Under the heading 'Harmful Sexual Behaviour in Schools', this page provides all the resources for schools to assess their own response to harmful sexual behaviour. This includes guidance to the traffic-light tool for self-assessment; an example completed self-assessment; a range of resources to help schools complete their self-assessment; and finally, an online scorecard where you can enter your scores and print tailored reports.
To begin, download the HSB traffic-light tool and guidance.
Using the Beyond Referrals toolkit 
The Beyond Referrals self-assessment toolkits should be used to identify what you are doing well to mitigate against the harm risks in your school or college, and, importantly, to identify areas for development and improvement. The harms young people may face outside of their homes are constantly evolving, and no school will get everything right all the time.
There are five categories of self-assessment: Systems and Structures; Prevention; Identification; Response and Intervention; School Culture
Each category represents a 'lever' for preventing and addressing HSB more specifically, in school settings. Each lever has various components against which a school can assess itself and develop a plan of action as a result.
Harmful Sexual Behaviour in Schools
School Self-Assessment Toolkit & Guidance
School Self-Assessment Methods
Completing your self-assessment requires using a range of methods from speaking with students, staff and parents, to reviewing policies and procedures and safeguarding logs. For complete guidance on how to do this, including templates, download and use the following guides: