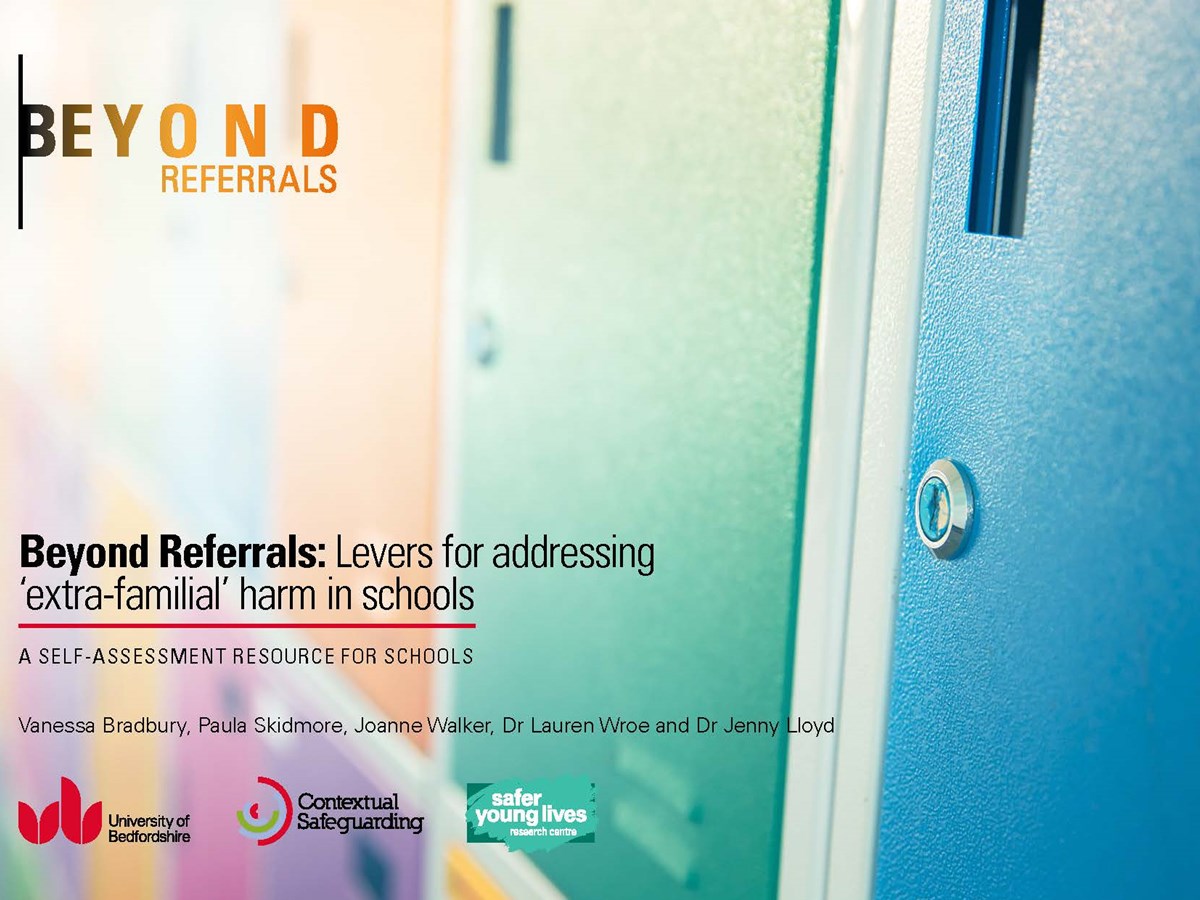 Schools can be important places of safety for young people. They can also be places in which young people can are harmed and exploited. The extra- familial harm in schools toolkit expanded the harmful sexual behaviour tool for use with all forms of extra-familial harm. The toolkit can help schools recognise harm and create safety for students in their settings.
Extra-familial harm in schools
'Extra-familial harm' refers to a broad category of harm types, including peer-on-peer harm, sexual and criminal exploitation and bullying. Often, these different harm types share overlapping drivers, methods and consequences for young people.
Research carried out by the Contextual Safeguarding team for the Beyond Referrals 2+ project indicates that whole-school approaches are needed to prevent and respond to these forms of harm, that young people face outside of their homes. This requires schools to develop ways of creating safety, beyond solely making referrals to their designated safeguarding leads or to social care services. To do so, schools, students, parents/carers and multi-agency partners and inspectorates must understand the levers for preventing and intervening when harm occurs in school/college contexts and work together to build safety.
Using the Beyond Referrals toolkit
For schools that have particular concerns around issues such as peer-on-peer abuse, child sexual or criminal exploitation or bullying, we recommend using the toolkit Beyond Referrals: levers for addressing 'extra-familial' harm in schools' and the accompanying resources below.
The toolkit should be used to identify what you are doing well to mitigate against the harm risks in your school or college, and, importantly, to identify areas for development and improvement. The harms young people may face outside of their homes are constantly evolving, and no school will get everything right all the time.
There are five categories of self-assessment:
Systems and Structures
Prevention
Identification
Response and Intervention
School Culture
Each category represents a 'lever' for preventing and addressing 'extra-familial harm' in school settings. Each lever has various components against which a school can assess itself and develop a plan of action as a result.
This toolkit is designed to be used to support 'contextual safety', that is, safety in your school/college context. Our research indicates that contextual safety is best achieved when: interventions target the social conditions of harm; they prioritise child welfare as opposed to sanctions and policing; creative partnerships are established; and outcomes measure changes in contexts, not just changes in people.